Cleanroom Sandwich Panel Production Line
Cleanroom Rock Wool Sandwich Panel Production Line
The rock wool sandwich panel production line is a semi-automatic cleanroom wall panel production line integrating mechanical, electrical, hydraulic and HCFC polyurethane chemical polymerization units. The cleanroom sandwich panel manufacturing process is implemented by manually filling the upper and lower layers with rock wool core materials, then polymerization, and finally bonding the layers together. The produced rock wool sandwich panel is widely used in medicine, food and building insulation systems.
The rock wool sandwich panel production line mainly consists of steel plate decoiler, forming machine (with film lamination, front and rear bending and cutting device), conveying system, glue spraying system, panel cutting system, panel turnover system, traverse conveying unit, panel deviation prevention device, double belt heating system, stacking system, etc.
The production line adopts advanced roll forming technology, HCFC polyurethane (chemical) foaming technology, composite transmission technology, frequency conversion vector technology and hydraulic control technology. The entire production line requires only 10 to 13 operators to conduct the production process. Its features high production efficiency, the production speed is 3 ~ 6m / min and its annual production capacity can reach 850000 square meters. (based on conditions of 10 hours per day, and 300 working days per year).
Specifications
Sandwich panel
Length: 2000--10000 mm
PU sandwich panel width: 1198/1178/978 mm
Cleanroom panel thickness: 50mm/75mm/100mm
Raw material
| | | | |
| --- | --- | --- | --- |
| Thickness | Rock wool | Single glass wool | Double glass wool |
| 100 | 99 | 94 | 89 |
| 75 | 74 | 69 | 64 |
| 50 | 49.5 | 44.5 | 39.5 |
Rock wool raw material (L × W × H): 1000-1800mm × 40-100mm × 85mm
Thickness of steel plate: 0.4 - 0.7 mm (no obvious unevenness, concave convex, deformation and side bending of steel plate)
Yield strength of steel plate: 235mpa-300mpa
Production Line Specifications
Line speed: 3 - 6 m / min (adjustable)
Total length of production line: about 75 m
Working height: 1200 mm (plate height)
Effective length of double belt: 24 m (total length 25 m)
Control mode: imported PLC control
Total installation power: about 100 kW (excluding electric heating power of 300 kW)
Power supply: 380V / 3Ph / 50Hz
Control voltage: 24 V/220 V
Air supply pressure: 0.7 MPa (prepared by the buyer)
Production Flow
Color steel cleanroom sandwich panel
Steel coil loading – film lamination - leveling - trimming - punching - forming - cutting and flanging - panel glue spraying - roller table conveying - rock wool material (reinforcement, pipe embedding) - panel 180° turnover - plate alignment - double belt heating - discharging from double belts (3-6mins) - stacking of laminated panels - glue cleaning - packaging – warehousing
Glass magnesium plate cleanroom sandwich panel:
Stacking and feeding of glass magnesium plate - plate lifting and traveling (using suction cup) - plate released from suction cup and fed into roller table – fixed-length cutting of glass magnesium plate (leaving 50mm not cut) - glue spraying of glass magnesium plate - manual placement of glass magnesium plate into the main line - rock wool material placement - 180° turnover of glass magnesium plate - panel alignment - double belt heating (3-6 minutes) - discharging from double belt - stacking of laminated panels - glue cleaning - packaging - warehousing
Performance characteristics
Roll forming system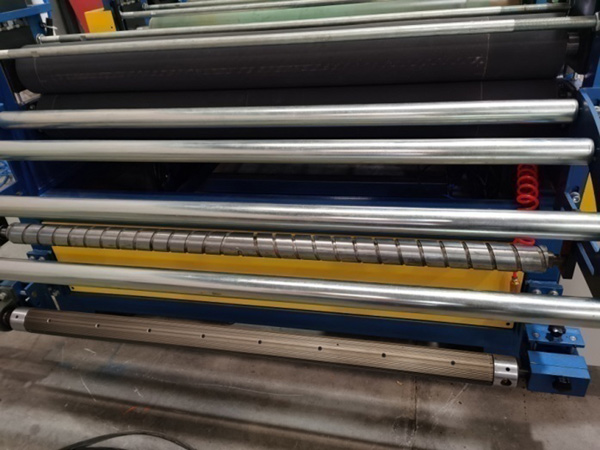 The film storage device of the roll forming system uses expanding air shaft, the film roll is placed on the mandrel, and rubber roller is used in pressing unit. The panel and film are fed into rotating rubber roller simultaneously, enabling the film to be pasted on the steel plate smoothly. The expanding air shaft can adjust the film resistance to make the film bonded tightly on the steel plate without air bubbles.
---
Heating system (double belt temperature control)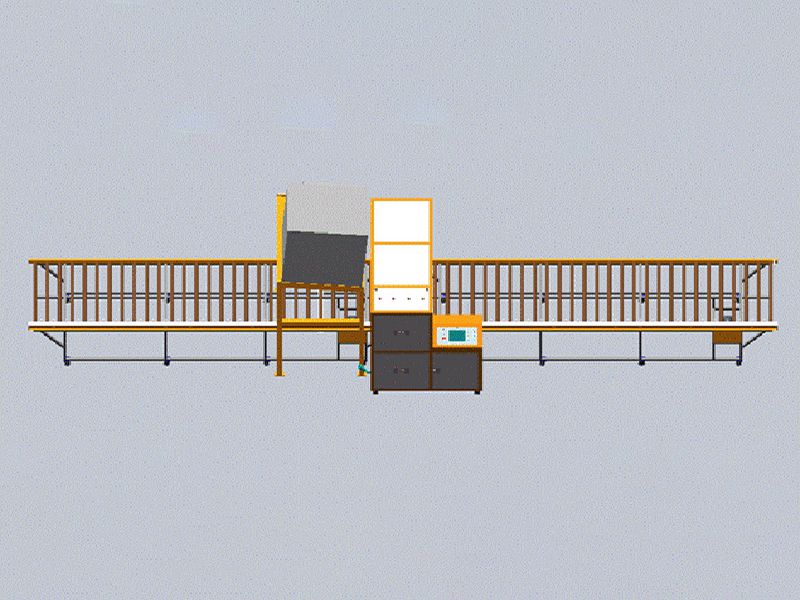 The double belt temperature control system adopts hot air circulation heating method. The heated circulating air is fed to the air duct by the fan to heat the panels at upper and lower belts that are moving forward at a uniform speed. The heated belts heats the sandwich panel, making the polyurethane foaming and curing processes more stable, so that the foam adheres more firmly to the surface of the panel, while minimizing air bubbles.
---
Glue spraying system
The glue spraying system adopts two-component glue spraying device of domestic well-known brand. The glue spraying device is used to spray glue on the two inner sides of the upper and lower panels or the edges of glass magnesium panel respectively, so that the panel and rock wool are completely bonded.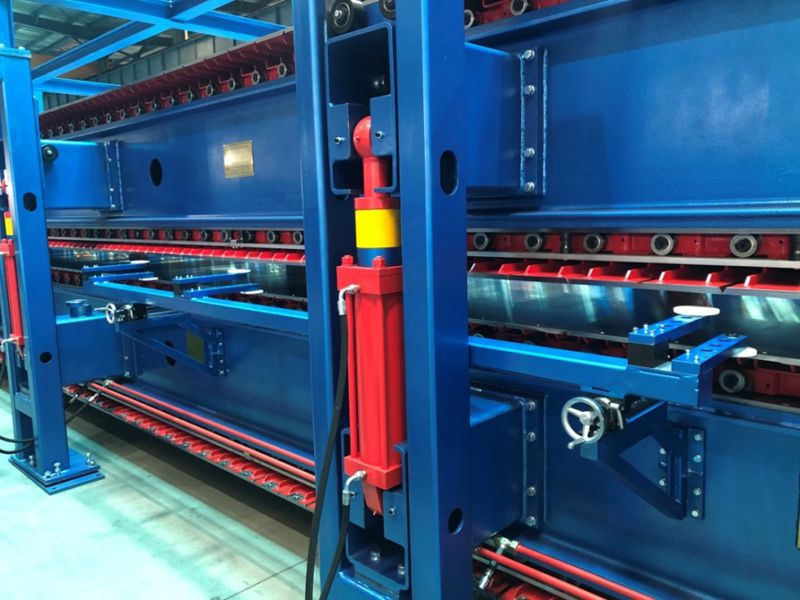 ---
Double belt system
The technology of the upper and lower position adjusting device of the double belt frame has obtained the national patent. The left and right sides are equipped with side block guide devices of 10m in length, and the belt system width can be adjusted freely to ensure that the sandwich panel does not deviate when the double belt is running.
---
Stacking system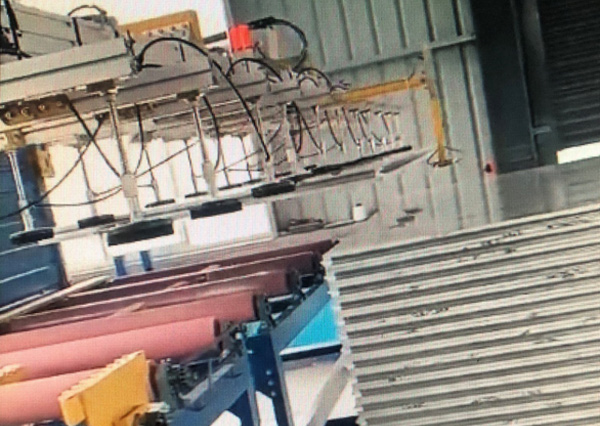 The stacking device can ensure stable speed control by using the frequency converter. After reaching the determined position, it stops immediately to ensure accurate positioning, therefore enabling products to be stacked in an orderly manner. The technology of the stacking device has applied for a national patent.
---
Control system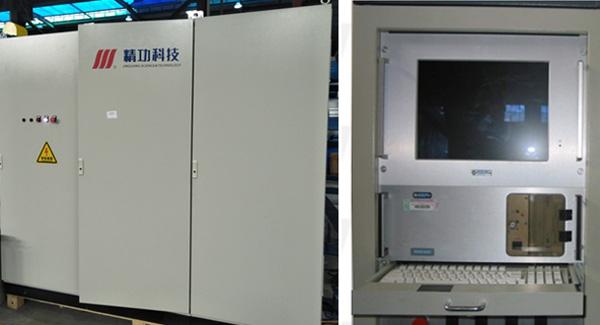 As the core part of the production line, our independently developed control system is featured by comprehensive functions, convenient operation and friendly man-machine interface to accommodate the production process and equipment characteristics. With an especially engineered software, user can master the production line after a simple training. The control system integrates mechanical, electrical and hydraulic control, achieving high degree of automation, good coordination and synchronization of various links.
---
Production line layout drawing
Cleanroom Sandwich Panels