Cut to Length Line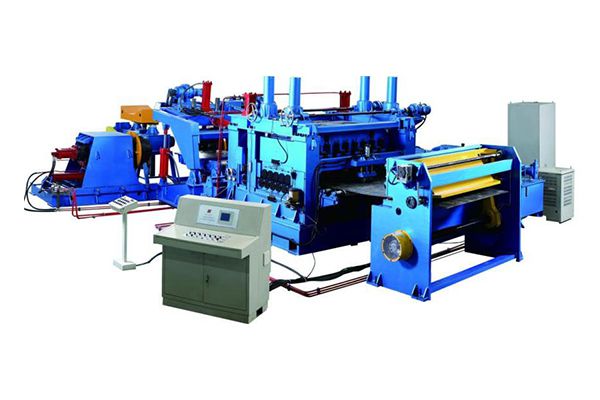 This cut-to-length machine is special equipment for uncoiling, leveling, cutting and stacking the steel sheet according to the requirement of the client.. It mainly consists of uncoiler, leveling system, feeding system, cutting system, conveying system, stacking system and so on.
We can design and manufacture our cut-to-length lines to suit your required specifications.
Performance characteristics
1. Paper rewinder: used to remove paper gaskets from sheet coils.
2. Coil loading car: It moves horizontally and vertically, can be used for lifting the coils.
Cylinder lifting range: 450mm
Coil OD: Max. Φ1800mm/ Min. Φ1000mm
Coil width: Max. 1600mm
Max. loading capacity: 15T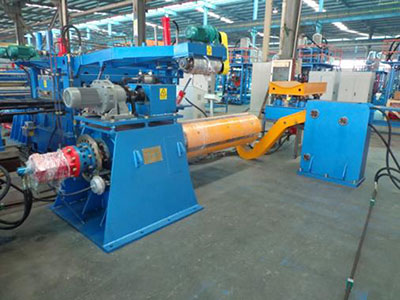 3. Decoiler: The cantilever decoiler is equipped with hydraulic expandable mandrel. There is a disc type pneumatic braking system to control the decoiler according to the speed of the main machine in case of loosening the coil.
Suitable coil ID: Φ508, Φ610, Φ762
Coil width: Max. 1600mm
Max. loading capacity: 15T

4. Sheet feeding device: The hydraulic cylinder controls the lifting of pressing roller. The AC2.2kw motor will drive the roller and feed the sheet into the leveler. The straightener will straighten the head of the sheet; it is controlled by hydraulic cylinder.
5. Pinch roller and leveler: It adopts 15 leveling rollers, 2 pitch rollers, 8 units supporting rollers, driving device and upper & lower frame

6. Loop: The loop is used to adjust the coil speed when it enters the measuring device.
More Details
The second leveler

Shearer

Stacking device

Lubrication system
Technical Parameters
| | | | | | | | |
| --- | --- | --- | --- | --- | --- | --- | --- |
| Model | JH-3×1600 | JH-6×1600 | JH-10×1600 | JH-12×2000 | JH-16×2200 | JH-20×2200 | JH-30×2200 |
| Thickness(mm) | 0.5-3.0 | 1.5-6.0 | 2.5-10 | 3.0-12 | 4.0-16.0 | 5.0-20 | 7.5-30 |
| Coil weight | 35 | 30 | 35 | 35 | 35 | 40 | 40 |
| Width(mm) | 800-1600 | 800-1600 | 800-1600 | 1000-2000 | 1000-2200 | 1000-2200 | 1000-2200 |
| Quantity of leveling rollers | ≥15 | ≥13 | ≥11 | ≥11 | ≥9 | ≥9 | ≥9 |
| Line speed(meter/minute) | 0-60 | 0-40 | 0-30 | 0-30 | 0-20 | 0-20 | 0-20 |
| Power(KW) | 90 | 155 | 240 | 255 | 255 | 305 | 460 |
| Mechanical area(m) | 8×30 | 8×35 | 8×30 | 10×32 | 10×53 | 10×55 | 10×56 |
Cut coil material specification
Cut material
Common carbon steel, stainless steel, color coated plate, and galvanized plain steel
Coil width(mm)
200-650
600-1350
600-1600
Coil thickness
0.2-2.0 mm
0.2-2.0 mm
0.3-3.0 mm
Coil weight(T)
6
15
15
Line speed(m/min)
15-50 m/min
15-50 m/min
15-60 m/min
Cutting length(mm)
300-1500
600-2500
1000-4000
Power (kw)
75
95
110
Mechanical area(M)
4×16
7×20
9×26