PU/PIR/Rockwool Continuous Sandwich Panel Production Line
PU Sandwich Panel Line/ PIR Sandwich Panel Line/ Rockwool Sandwich Panel Line

The PU/PIR/Rockwool Continuous Sandwich Panel Production Line JF 100 is a multifunctional collection of equipment that is designed to carry out processes including decoiling, film cutting, transmitting rock wool/glue, preheating, foaming, heating, cutting, air cooling, stacking, and packing.
The line is utilized for the production of sandwich panels that can be used in industrial buildings, wall decoration, livestock breeding, cold storage, and more.

Technical parameters
Specification: sandwich panel line
Production speed(m/min): 3-7 Adjustable
Valid length of double belt conveyor: 16000-40000mm
Work pressure on pouring foam: 150-200 Bar
Total power: About 200kw
Outline dimensions(L*W*H):(100-200)m×(16-30)m×6m
Suitable raw material
Type:Color Steel Sheet、Stainless Steel Sheet, Aluminum Sheet
Thickness: 0.4-0.8 mm(Steel Sheet), 0.35-0.6 mm(Stainless Steel Sheet)
Max. Width: 1250mm
Max. Weight: 6T/10T
Core Materials: PU, PIR, Rockwool, Glass Cotton
The general specification of PU panel produced
Panel Length: 2000-18000mm
Panel Width (mm): 600-1200mm
Panel Thickness(mm): 30-200/250 (Cold Storage Panel)
Videos
PU Sandwich Panel Line
Rockwool Sandwich Panel Line
Performance characteristics
Roll forming system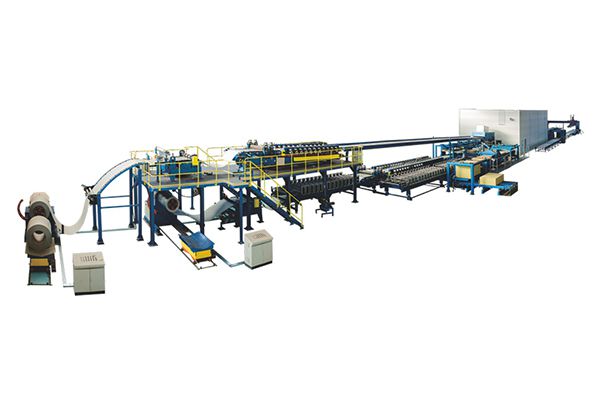 There is one set of roll forming machine for upper layer profiles. That is double-headed roll forming machine. The width of roll forming machine can be adjusted, it is forming system adopts double sided separate sets of rolling shafts, the frame can be adjusted within a specified range.
Rockwool system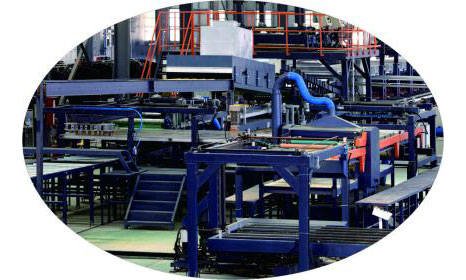 The rock wool system consists of rock wool lifting device, rock wool slitting device, rock wool turning device, upper and lower foam spraying system, two components side sealing foaming machine, dust collecting device and conveyor, etc.
Pre-heating system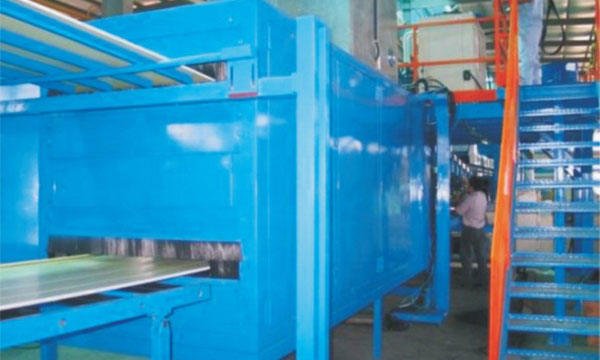 The continuous sandwich panel line features a hot air circulating heating furnace so that the temperature of polyurethane foaming and curing is maintained at the proper level, which results in high-quality sandwich panels.
Double belts system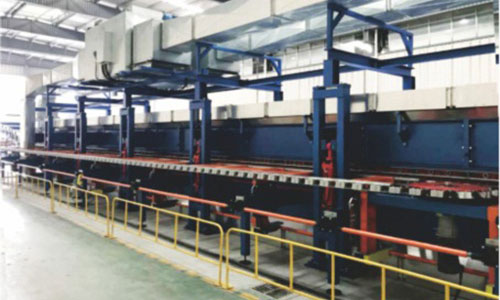 Bandsaw cutting system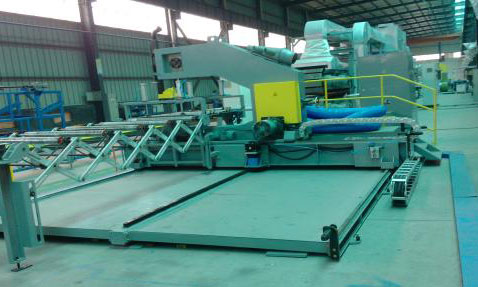 Stacking System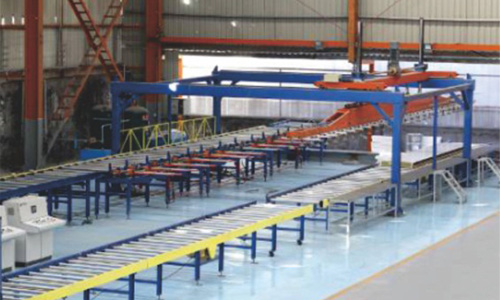 Cooling System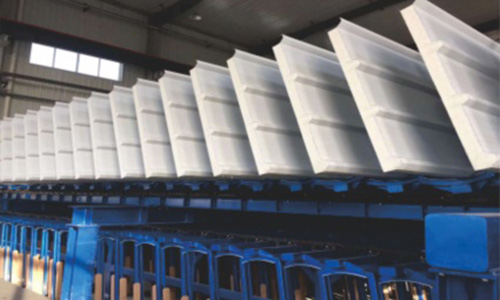 Packing system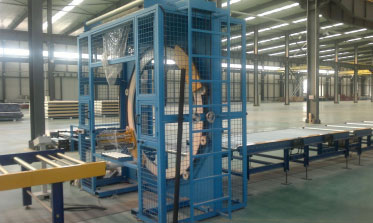 Products
Panels produced by our Polyurethane Sandwich Panel Line feature heat preservation, heat insulation, sound insulation, fire retardance, and water resistance. You can use the machine to produce panels that are beautiful and practical.
Onsite