The PU/PIR/Rockwool Continuous Sandwich Panel Production Line JF 100 is a multifunctional collection of equipment that is designed to carry out processes including decoiling, film cutting, transmitting rock wool/glue, preheating, foaming, heating, cutting, air cooling, stacking, and packing.
The line is utilized for the production of sandwich panels that can be used in industrial buildings, wall decoration, livestock breeding, cold storage, and more.

Technical parameters
Specification: sandwich panel line
Production speed(m/min): 3-7 Adjustable
Valid length of double belt conveyor: 16000-40000mm
Work pressure on pouring foam: 150-200 Bar
Total power: About 200kw
Outline dimensions(L*W*H):(100-200)m×(16-30)m×6m
Suitable raw material
Type:Color Steel Sheet、Stainless Steel Sheet, Aluminum Sheet
Thickness: 0.4-0.8 mm(Steel Sheet), 0.35-0.6 mm(Stainless Steel Sheet)
Max. Width: 1250mm
Max. Weight: 6T/10T
Core Materials: PU, PIR, Rockwool, Glass Cotton
The general specification of PU panel produced
Panel Length: 2000-18000mm
Panel Width (mm): 600-1200mm
Panel Thickness(mm): 30-200/250 (Cold Storage Panel)
Performance characteristics
1. The continuous sandwich panel line features a hot air circulating heating furnace so that the temperature of polyurethane foaming and curing is maintained at the proper level, which results in high-quality sandwich panels.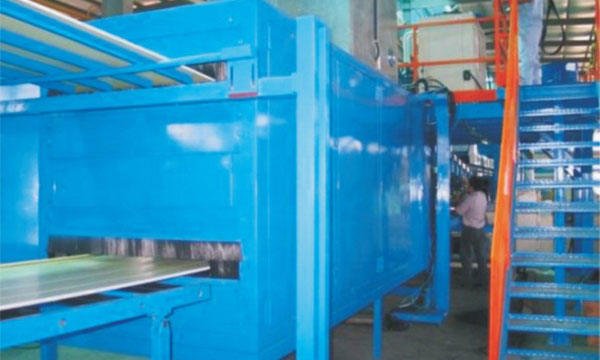 Pre Heating
2. Adopting high-voltage foaming system to produce stable foam, features accurate measurement and good foaming stability. Utilize pentane or 141B as foaming agent, which conforms to the environmental protection requirements to the production lines.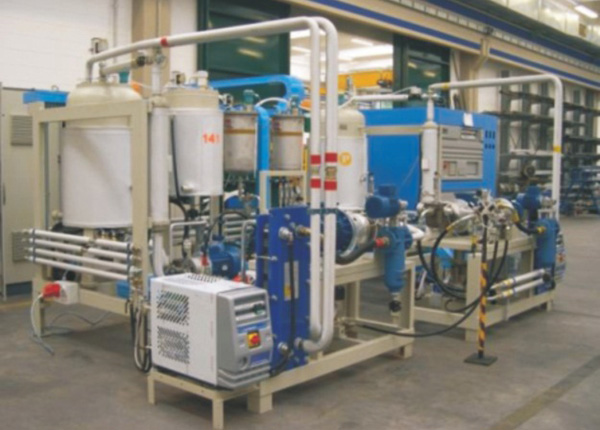 Mixing and metering (foaming)
3. The rolling forming system of the production line adopts shaft type structure or box type structure. With box type structure, the machine is convenient and reliable to adjust according to the width and thickness of panels.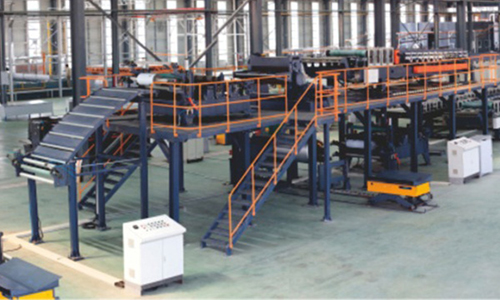 Roll Forming System
4. Thanks to servo tracking and cutting technology, the machine can cut the panels precisely to the desired length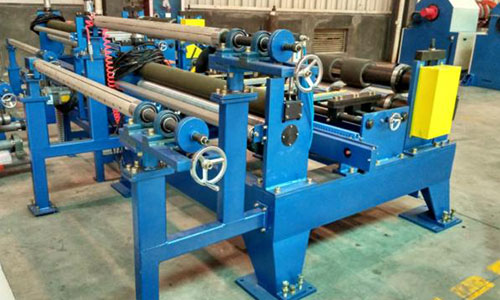 Filming Slitting and Cutting
5. The sandwich panel line is equipped with a special double-belt conveyor (200mm pitch chain plate) to reduce the polygon effect and avoid transverse indentation on panels; the structure of the large chain drives the 200mm pitch side mold to narrow the gap, preventing the raw material from dislocating, making the sides of the plate smoother and flatter.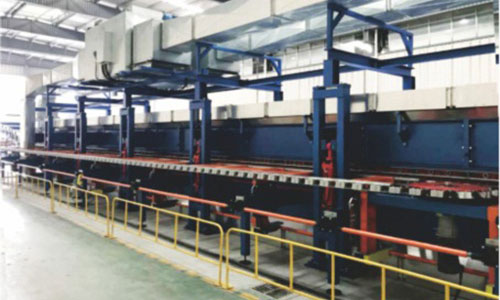 Double Belts Heating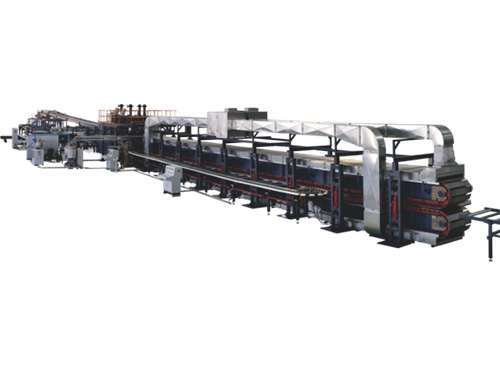 Double Belt System
6. PLC control system and HMI make the equipment easy to operate
More details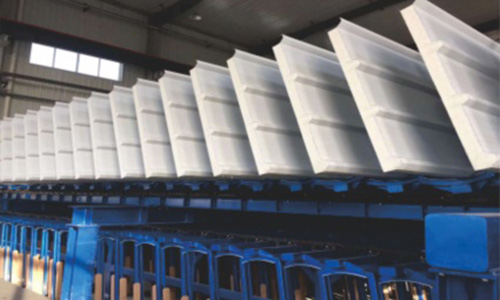 Cooling System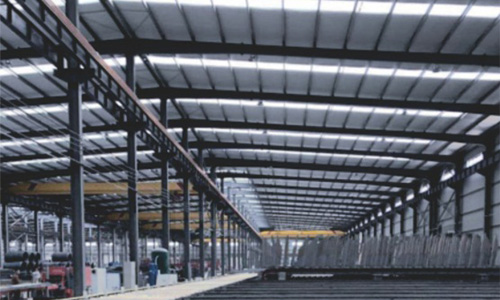 Horizontal Feeding System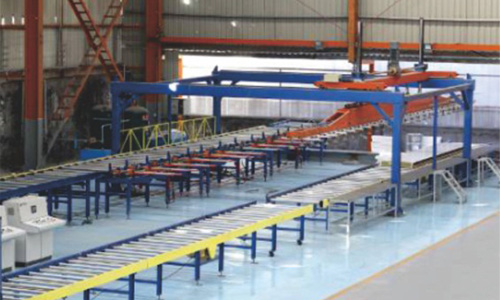 Stacking System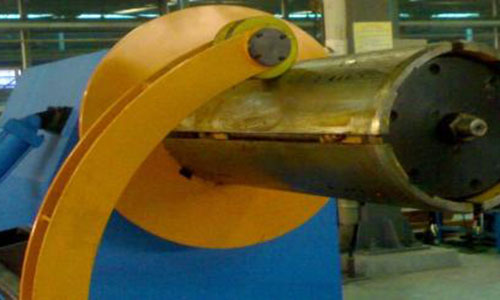 Decoiling System
Products
Panels produced by our Polyurethane Sandwich Panel Line feature heat preservation, heat insulation, sound insulation, fire retardance, and water resistance. You can use the machine to produce panels that are beautiful and practical.
Onsite