JGH35A Steel Bar Truss Production Line
JGH35A Steel Bar Truss Production Line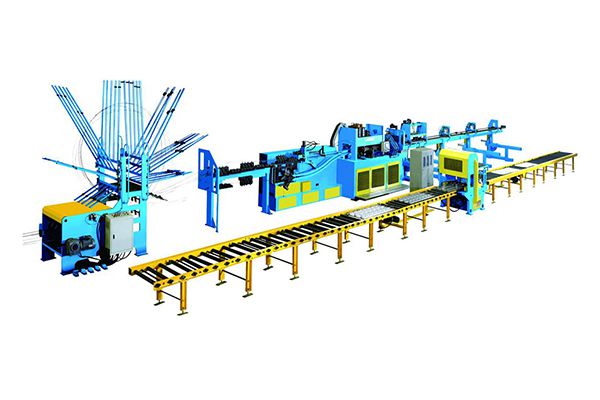 JGH35A steel bar truss production line is composed of truss welding machine, bottom plate forming machine, steel plate spot welding machine, etc. Combining mechanical, electrical, hydraulic and pneumatic systems with microcomputer control, it can implement the entire process of steel bar truss welding, bottom plate forming and steel plates welding and assembling, annual production capacity reaches 30 square meters.
Production Line Components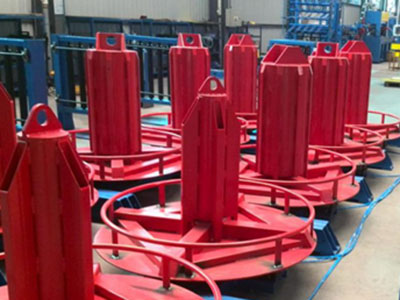 1. Vertical steel bar decoiler (decoiling passively): It consists of steel bar feeder (for 1 top chord, 2 bottom chords and 2 web members), steel bar measuring device; every decoiler consists of wire releasing shaft, central spindle, turntable and brake.
Max. coil weight: 3T
Brake pneumatic cylinder diameter: about φ100*50mm; quantity: 8pcs.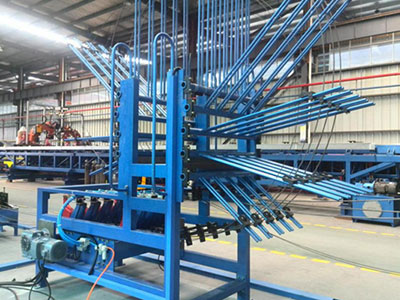 2. Steel bar storage device: This device is used to place and store the top chord, bottom chord and web member steel bar, and feed the steel bar to the truss production line.
Steel bar diameter: φ4-14mm
Steel bar quantity: 5pcs
Compressed air pressure: 0.6Mpa
Pneumatic cylinder diameter: aboutφ80*50mm; quantity 7pcs.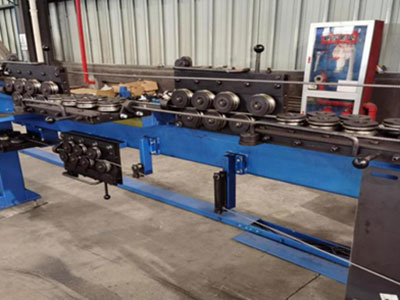 3. Steel bar second straightening device: it uses two sets of 7 straightening rollers to straighten top and bottom chord steel bars, while the 2 web member steel bars are straightened by the same set of 7 straightening rollers.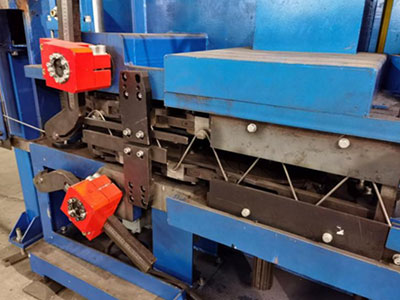 4. Steel bar bending device: It consists of 2 pairs of rotated chain wheel, bending arm, drive motor and upper and lower specifications adjusting device.
Motor power: about 22kw
Processing height range: 70-320mm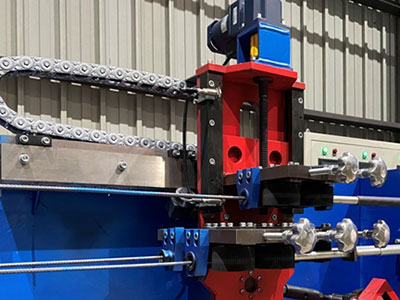 5.Steel bar conveying device: The steel bar conveying device adopts crankshaft drive; the stroke length can be accurately adjusted by means of eccentricity on connected rod.
More Details
Detector

Welding position fixing device

Welding guns

Stand-alone control cabinet

Steel bar cutting device

Stacking device
Parameters
Truss Parameters
Diameter of top chord steel bar
φ6~φ14mm
Bottom chord steel bar diameter
φ5~φ14mm
Diameter of web bar
φ4~φ8mm
Total height of straight truss
(F+H)=70~350mm;
Height from bottom chord to bottom
Curved truss C=15~30mm;
Straight truss F=0~30mm (F value should satisfy 70≤(F+H)≤350mm)
Plane truss H=70~350 mm
Bottom width of triangular truss
Curved truss A=135~140mm; straight truss b=60, 80mm
Feet folding length of triangular truss
B=30mm
Raw material requirements
The upper and lower chords are made of spiral ribbed deformed reinforcing steel bars, which meet the standard requirements of GB14981-2004 "Dimensions, shape, mass and tolerances for hot-rolled wire rods".
The web bar is made of plain round bars, which meets the standard requirements of GBT 14981-2004 "Dimensions, shape, mass and tolerances for hot-rolled wire rods".
The maximum speed of the production line (test sample TD3-100): 15-20 m/min for conventional bent truss
Total equipment power:
Welding power source: using the latest AC frequency conversion technology, the installed capacity of the transformer is 200kW x 4 units
Power consumption of welding system: 250 kVA (variable frequency power supply)
Installed power of motor: 80 kW
Mode 3000 chiller: ≈ 13 kW (Outsourced equipment, subject to the delivery)
Actual power consumption of the production line under normal production: about 60kW (motor)
Power supply: 380V/50 Hz three-phase AC
Ambient temperature: -5~45 ℃
Truss length: 2-12 m (optional in 2-6 m)
Water-gas-liquid parameters:
Cooling water flow: ≥100 L/min (On the premise that the cooling effect of the equipment can ensure the normal circulation of the cooling water, the cooling water must be pure water, and antifreeze must be added when the temperature is below zero.)
Compressed air pressure: ≥0.6 MPa
Compressed air flow: ≥1 m3/min
Hydraulic pressure: 16 MPa
Dimensions of production line: ≈45000×5000×4500 mm (L×W×H)